Victoria Shopping Centre Couldn't Bee More Excited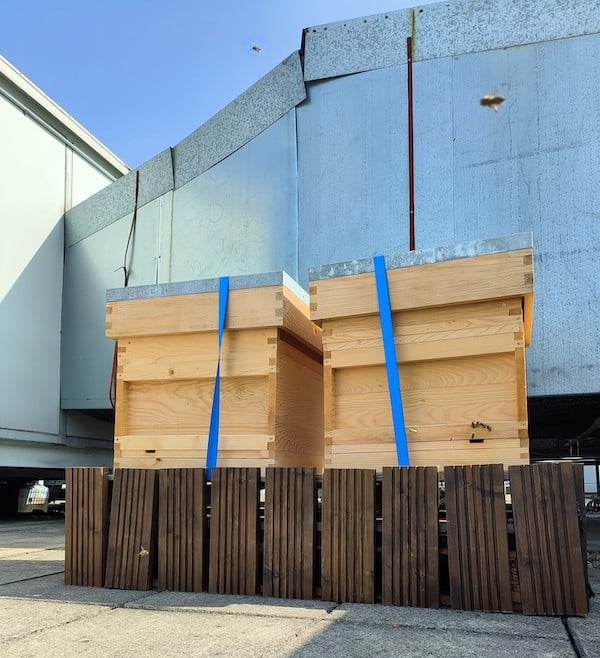 Victoria Shopping Centre has partnered with Spa Bees to promote sustainability and biodiversity, installing new beehives on the shopping centre's roof.
Victoria Shopping Centre, a leading retail destination in Harrogate, is pleased to announce an exciting collaboration with Spa Bees, an esteemed local initiative dedicated to supporting honeybee conservation. Through this partnership, Victoria Shopping Centre has installed beehives on its roof to promote sustainability and enhance biodiversity in the heart of Harrogate.
The initiative aims to create a safe habitat for honeybees, which play a crucial role in pollination and the overall health of our environment. By hosting these hives on the shopping centre's rooftop, Victoria Shopping Centre is making a tangible contribution towards supporting the bee population.
Spa Bees is a not-for-profit organisation based in Harrogate with the mission to encourage local businesses and landowners to make space for bees and other insects in the urban and rural environment.
Stuart Gibson, a representative from Spa Bees, said, "We were delighted to be contacted by Victoria Shopping Centre to install two beehives on the shopping centre roof. Bees will generally collect pollen within a 1-mile radius of their hive, but they will travel farther afield, so there are plenty of trees and plants for them to tend to around the town centre and beyond! Developing this project, there are also plans to plant flowers in planters on the rooftop which will encourage more insects and pollinators to the area."
James White, Centre Manager of Victoria Shopping Centre, added, "We are thrilled to have partnered with Harrogate Bees. At Victoria Shopping Centre, we are committed to sustainability and eco-conscious practices, and the installation of these beehives aligns perfectly with our efforts to create a more environmentally friendly space for our community."
Through our collaboration with Harrogate Spa Bees, we are excited to engage and educate the public about the importance of honeybee conservation and the positive impact it has on our environment."
It is estimated that the beehives will produce a significant amount of honey, and Spa Bees hope to host a pop-up at Victoria Shopping Centre over the coming year to sell their honey. Look out for the Spa Bees around the shopping centre and follow Victoria Shopping Centre's social media pages for more updates.