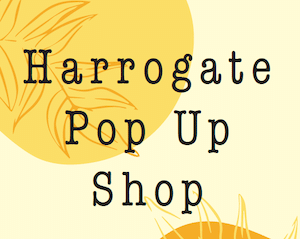 Harrogate Pop Up Shop
Opening Hours
Harrogate pop up shop – home to local, independent retailers. Look out a host of different businesses popping up in the space over the coming months. Located on the corner of Cambridge Street/Station Parade.
13th – 19th September: L&N Candles
20th – 26th September: Alcohol Free Drinks Company. Find out more about Alcohol Free Drinks Company here. Open from 10am-6pm daily (10am-4pm on Sundays). Plus, from 1am-2pm, they will be running FREE lunchtime drop in tasting sessions. No need to book, just turn up!
27th September – 3rd October: The Colourful Edit
4th October – 17th October: Sasha's Interiors
18th October – 31st October: James Humphrey Makeup & Beauty
1st November – 7th November: 2 Little Mice
8th November – 14th November: Jane Gales Designs
15th November – 21st November: Leticia – The Crow Emporium
22nd November – 29th November: Basco Fine Foods
29th November – 26th December: Charlene Barraclough
27th December – 2nd January: Alcohol Free Drinks Company is back with a dry January survival shop.