Harrogate Scrubbers Memory Quilts at Victoria Shopping Centre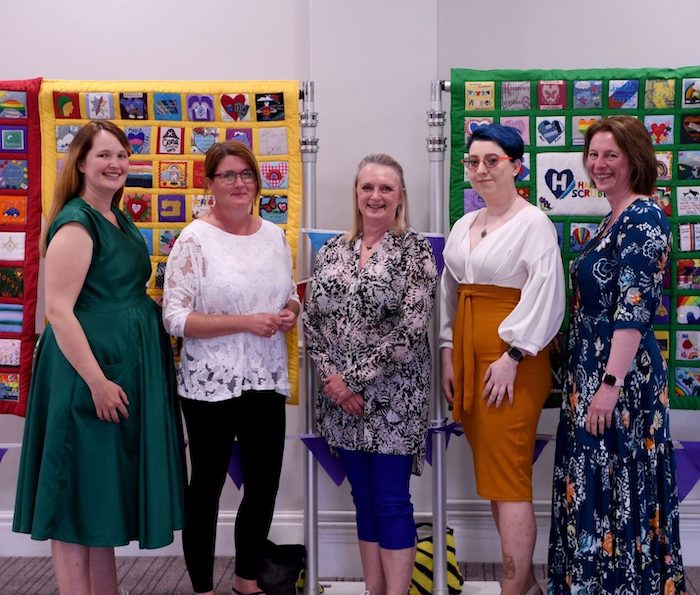 Having made thousands of scrubs for both Harrogate Hospital and the local community in May 2020, the Harrogate Scrubbers launch their latest initiative. Following an event at Pavilions of Harrogate, whereby they showcased five quilts made from memory squares, made by hundreds of the group members – the quilts will soon be displayed for everyone to see in the Victoria Shopping Centre in Harrogate.
Founding member Fran Taylor explains, "We were so overwhelmed by the reaction of the public to the memory quilts that the group made to remember the scrubs that were made for Harrogate Hospital in the first lockdown, that we decided to find somewhere to display them for everyone to be able to see them.  It has been brilliant to collaborate with the Victoria Shopping Centre and use one of their units to display them all, throughout the whole summer, enabling people to come and see them from anywhere. We want people to look back and remember some of the positives that came out of the pandemic, and how the community pulled together to support each other, also benefitting everyone's mental wellbeing as well."
James White, Centre Manager of Victoria Shopping Centre, said, "We are absolutely thrilled to host these quilts at Victoria Shopping Centre, capturing an important piece of history, made up of memories from the team who did so much to help Harrogate NHS Foundation Trust throughout an extremely difficult time for many.  It is a true privilege to be able to honour the exceptional work that the Harrogate Scrubbers have done and continue to do for our community."
The launch day will take place on Wednesday 27 July, starting at 11am with Nick Hancock from Your Harrogate opening the ground floor outlet for them, and they will stay on display near the entrance to the centre until the end of August.